19: The Department of Final Order Cut-Offs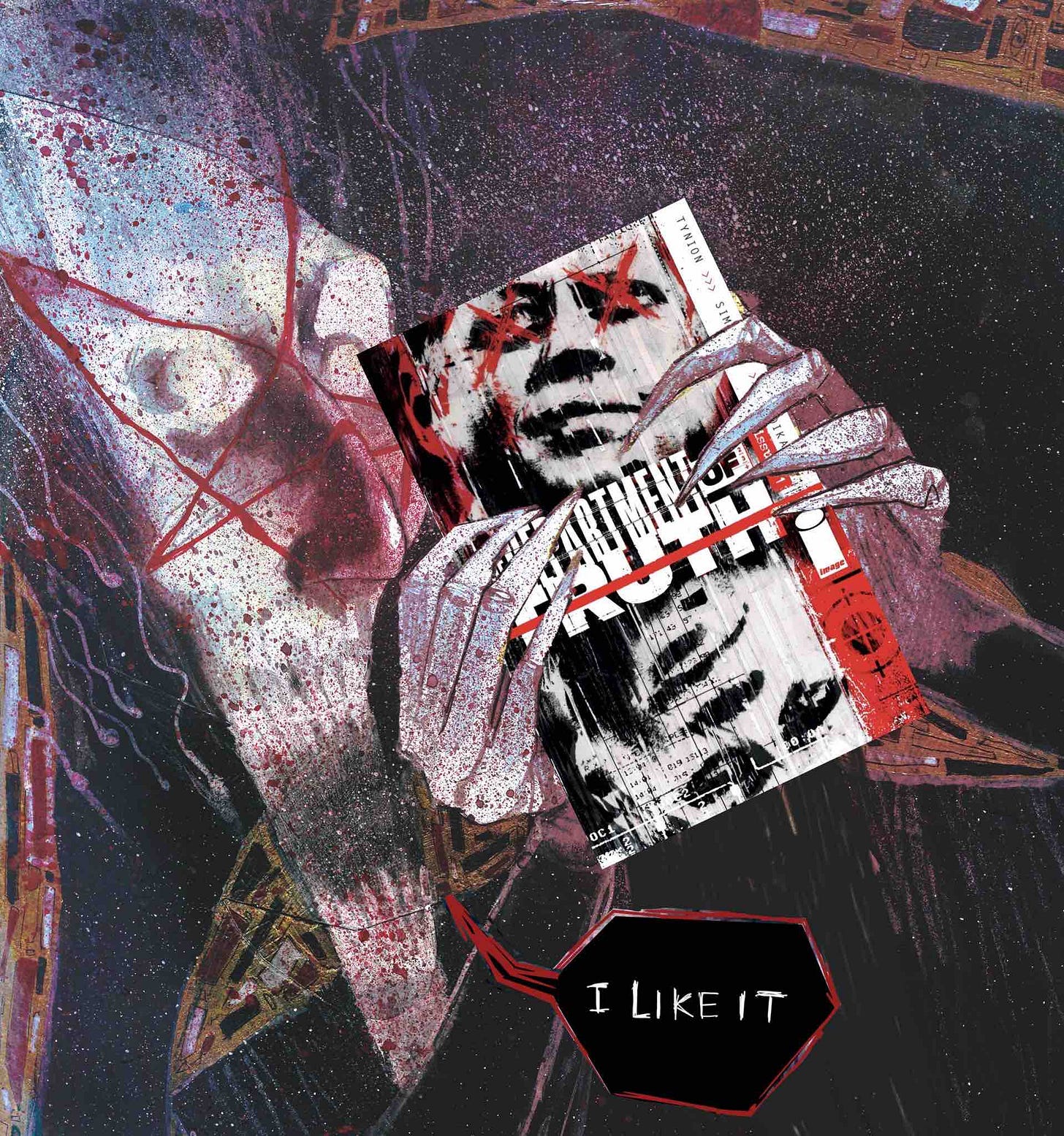 Listen to the Star-Faced Man, kids! It's your last chance for comic shops to get their orders in for the first issue of THE DEPARTMENT OF TRUTH, my new Image Comics series. You don't want to be one of the sad folks who go to their shop on September 30th only to find them already sold out!
There's a whole system to getting a book ready for FOC. That's something I've been learning for the last eight years, but I don't think I really got the hang of it until last summer in the lead-up to Something is Killing the Children. Before then, I think the real sales date that lived in my head was the day it ended up in stores… But in the land of the direct market, the REAL important date comes about 3-4 weeks before it ends up in stores. That is the Final Order Cut-Off. The day that retailers make their final adjustments to their orders, and the publishers set their final print runs. Basically, by midnight tonight, we'll know whether or not the book has had a successful launch.
So, let's see whether I can tip the scales any further with another fancy, schmancy newsletter… Let's get into it, bit by bit.
THE DEPARTMENT OF TRUTH
So… Last winter, just as Martin was wrapping his last issues of DYING IS EASY at IDW, we started having a conversation about the first cover for The Department of Truth. After the success of Something is Killing the Children, I knew that a first cover is the best ad you'll ever get for your book. It needs to capture the soul of the project, and capture the imagination of the reader. People tell you not to judge a book by its cover, but we're in the words and pictures business. Getting it right is paramount…
But none of our ideas were sticking.
We had just gotten the incredible Dylan Todd to do his first pass at the Department of Truth logo, which we were very excited by, but we were going in circles a bit about what we wanted the feel for that first book to be. We had talked a bit about using collage, and trying to capture the feel of a more handmade, zine-type product. Something you might find among a stack of manifestos in a conspiracy theorists apartment. Something that looked like it had been cut up and xeroxed into oblivion. We had also talked about how Dylan's design created a cool red line straight across the page, and how we might be able to center that line in the middle of the cover, with an image above and below the title.
But it was a bunch of disparate ideas in search of a bigger idea. And that's when a thought struck me out of the blue on one of my way-too-often late night work sessions… I tried typing up an explanation a few times, but it didn't capture the visceral feeling of what I had in my head. So I googled some public domain photos, printed them out full size, and took a scissor and some sharpies to them, and then taped it together with Dylan's rough logo design. I think it must have been around five o'clock in the morning, when I sent this picture to the entire Department of Truth team.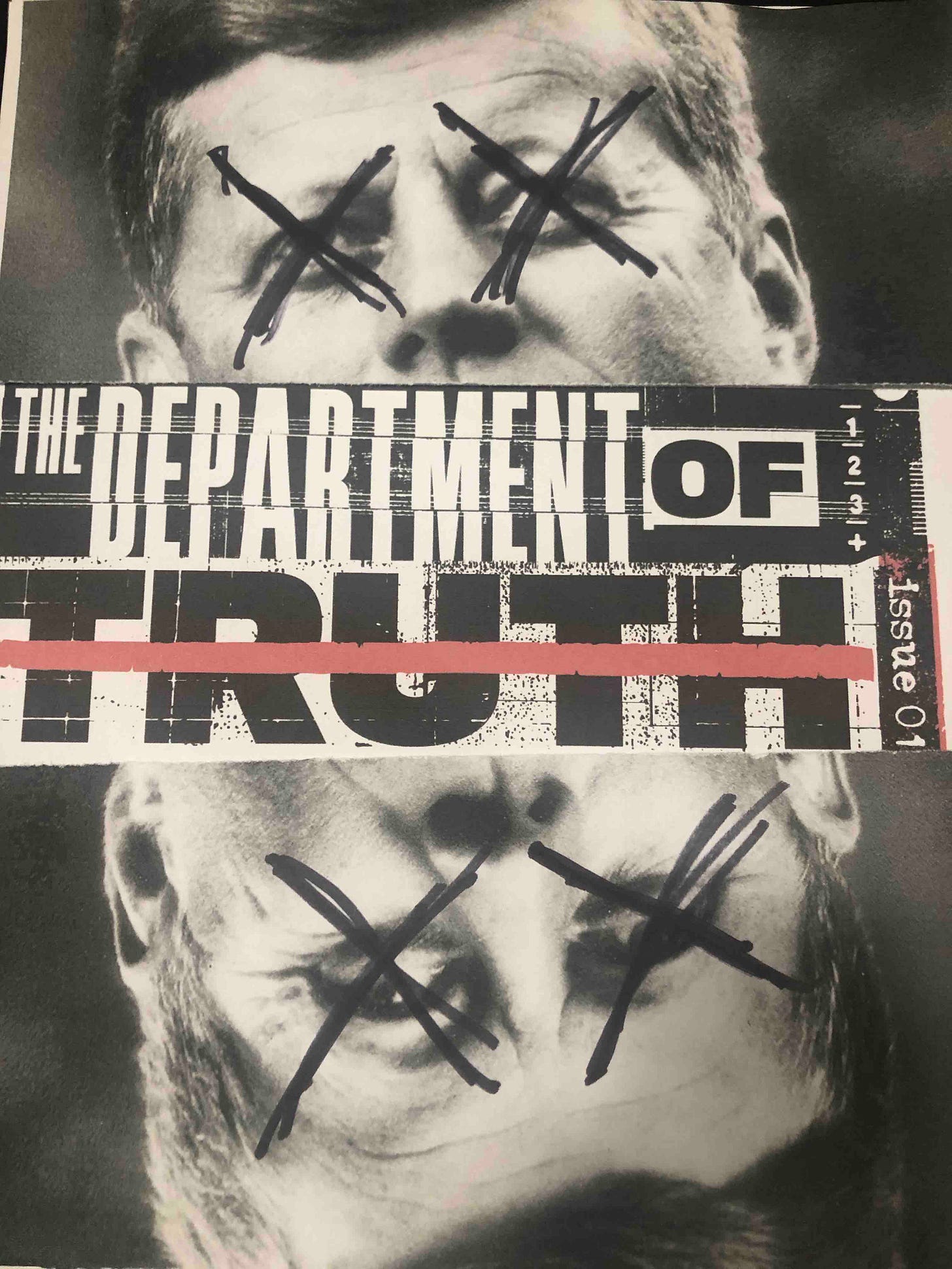 And that was the seed planted that blossomed into the cover of DEPARTMENT OF TRUTH #1. Martin's take is obviously, much much better. Like with all of my projects, I have a bunch of nutty ideas, and then I hand them to very clever artists, letterers, and designers who make me look smart. Thankfully it seems to be working, so far!
The final version of that cover is going to be on sale in just over three weeks, on September 30th. Or, I guess I should say, the FIRST cover of DEPARTMENT OF TRUTH #1 will be on sale. Between incentive covers and retailer variants, we cracked 30 covers for the first issue. And right now, across the country and the world, stores are putting in their final orders. And I couldn't be more excited or nervous. I wrote up a long, heartfelt message to retailers that was sent out by Image on Friday, and I just wanted to reiterate something I said in that email, to a wider audience.
THE DEPARTMENT OF TRUTH is the kind of comic book I've wanted to write since I was in high school, discovering the comic books that would make me want to be a writer for the first time. The sophisticated comics that made me feel smarter to read, like I was uncovering entire worlds of ideas in their pages. The Vertigo classics that I read over and over and over again. I desperately miss that style of writing… The way books like Sandman, and Preacher, and Fables, and Y: The Last Man had these powerful central narratives, but had worlds so fascinating that they could pause the action and focus on a small character for an issue or two, or even an arc, before moving back to the main story. And years later, those little stories hit me as powerfully as the big ones, if not more so. Those are the ones I remember as a reader, the ones that I feel like we don't get enough of, anymore. I think that's the case because series don't have the long runs that they used to… But honestly, my plan with Department of Truth is to set a course with the assumption that we're going to have time to take those kinds of detours, and make something really memorable. This book is my tribute to those kinds of comics.
I'm also thrilled for this to be my first title at IMAGE COMICS. I don't know that there's another company that exists that would let me do what I plan to do with this series. The subject matter is a bit too dangerous, a bit too wild. Working with IMAGE means that this is the first comic book series I wholly own with my co-creator. The more you support this book, the more you support both Martin and I directly. I can't tell you how powerful that is, and how grateful I am to be stepping into a part of my career where I can launch a title like this.
And in case I haven't made the sell hard enough just yet…
THE DEPARTMENT OF TRUTH is a story about the secret agency within the United States Government that makes sure that the wrong truths don't become reality. It is an X-Files style story with Conspiracy Theories instead of Aliens (though don't count the aliens fully out of the picture. It is a horror comic, a political thriller, and I think it might be the best thing I've ever written. It is also being drawn by the incredible Martin Simmonds right as he ascends to being one of the best comic book artists in the business. His work evokes my favorite periods of both Bill Sinkiewicz and Dave McKean, while being something wholly unique unto itself. It's lettered by the phenomenal Aditya Bidikar, who brought a brilliant approach the book that makes it stand out from any other book on the stands. It's designed by Dylan Todd, whose sensibilities have made a book that will pop on the shelf every month and catch your attention, and who designed all the logos I'm trying to sell you all on T-Shirts and enamel pins. It is edited by Steve Foxe, a great friend and horror maestro, and the co-creator of Razorblades, who has nobly kept this ship afloat while I work on roughly 10,000 comic books a month.
We've gotten a lot of good buzz, and I've been taking more Hollywood calls than I ever have on any of my project before. People seem particularly taken with the surprising ending to the first issue, which I ask that early readers don't spoil for everyone else.

I fucking love this comic book. I am ridiculously proud of it. I am so fucking happy it exists. I am so excited for you to read it. As fun as big long newsletters like this are, I'm excited to get back to spending more time week to week working on the creation of the book rather than the selling of it.
If you're intrigued, I hope you reach out to your local comic shop today and ask them to order a copy. The orders lock on Monday at Midnight, and once they do, those print numbers are set and they're not changing! There are five covers available to order, the first two shops can order at any quantity, and the next three are rarer, incentive covers… I figured I'd show them off to all of you.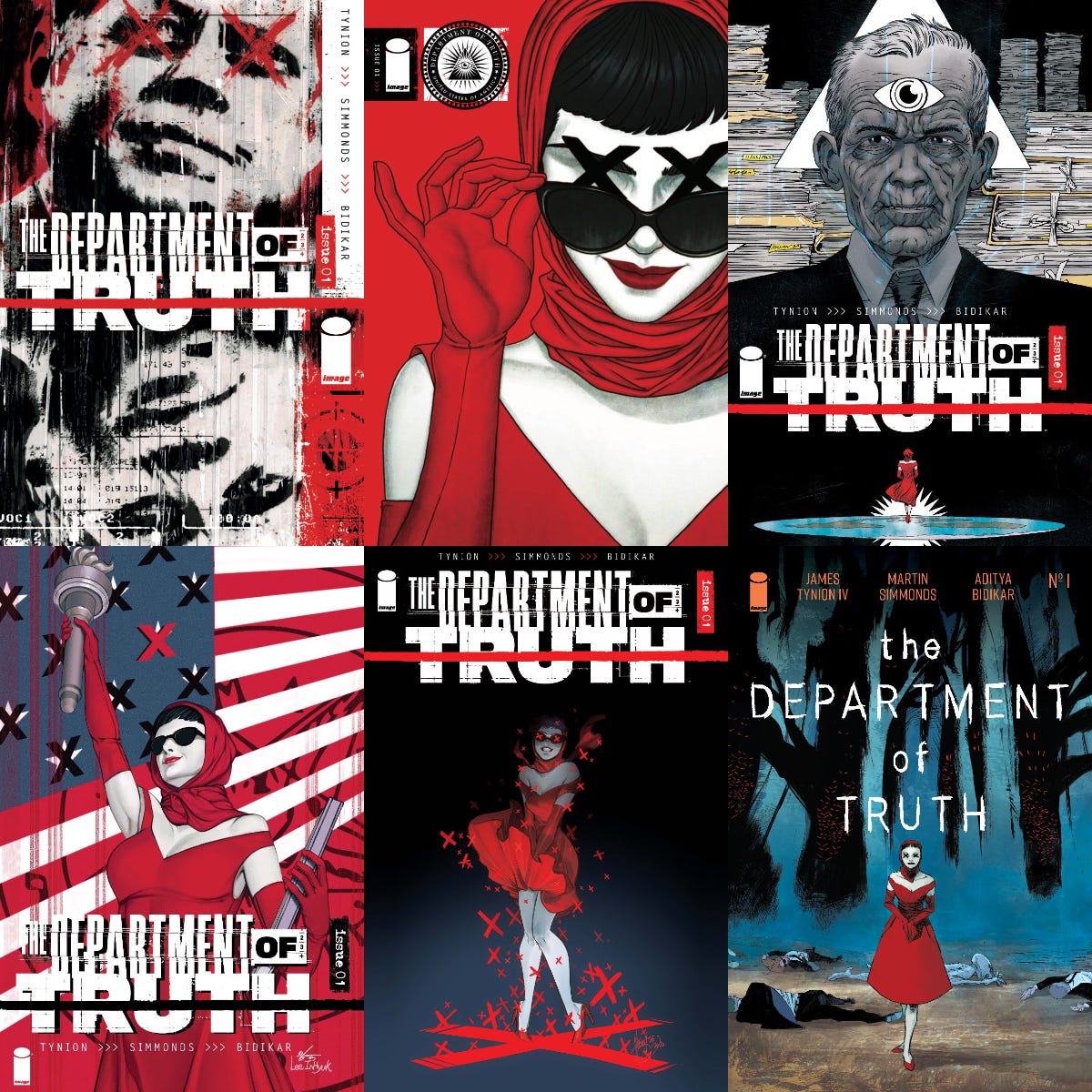 COVER A – Martin Simmonds
COVER B – Jenny Frison
COVER C – Declan Shalvey – 1:10 Ratio Variant
COVER D – Innhyuk Lee – 1:25 Ratio Variant
COVER E – Mirka Andolfo – 1:50 Ratio Variant
COVER F – Werther Dell'Edera – 1:100 Ratio Variant (This one is obviously my favorite - Can you blame me?)
There's one other little cover trick up our sleeves, that I'm excited to show off, but I think that'll come a little later in the game.
As Tiny Onion Studios, I partnered with Dan Scott of Scott's Collectables to produce the Peach Momoko variant series for Department of Truth #1. I think they're mostly sold out already, but here's a link if anybody is interested. The covers are absolutely gorgeous, as all of Peach's covers are.
But before I wrap this segment of the Newsletter I also wanted to announce that I had three covers done up for myself. And the first of them might look a little familiar to you.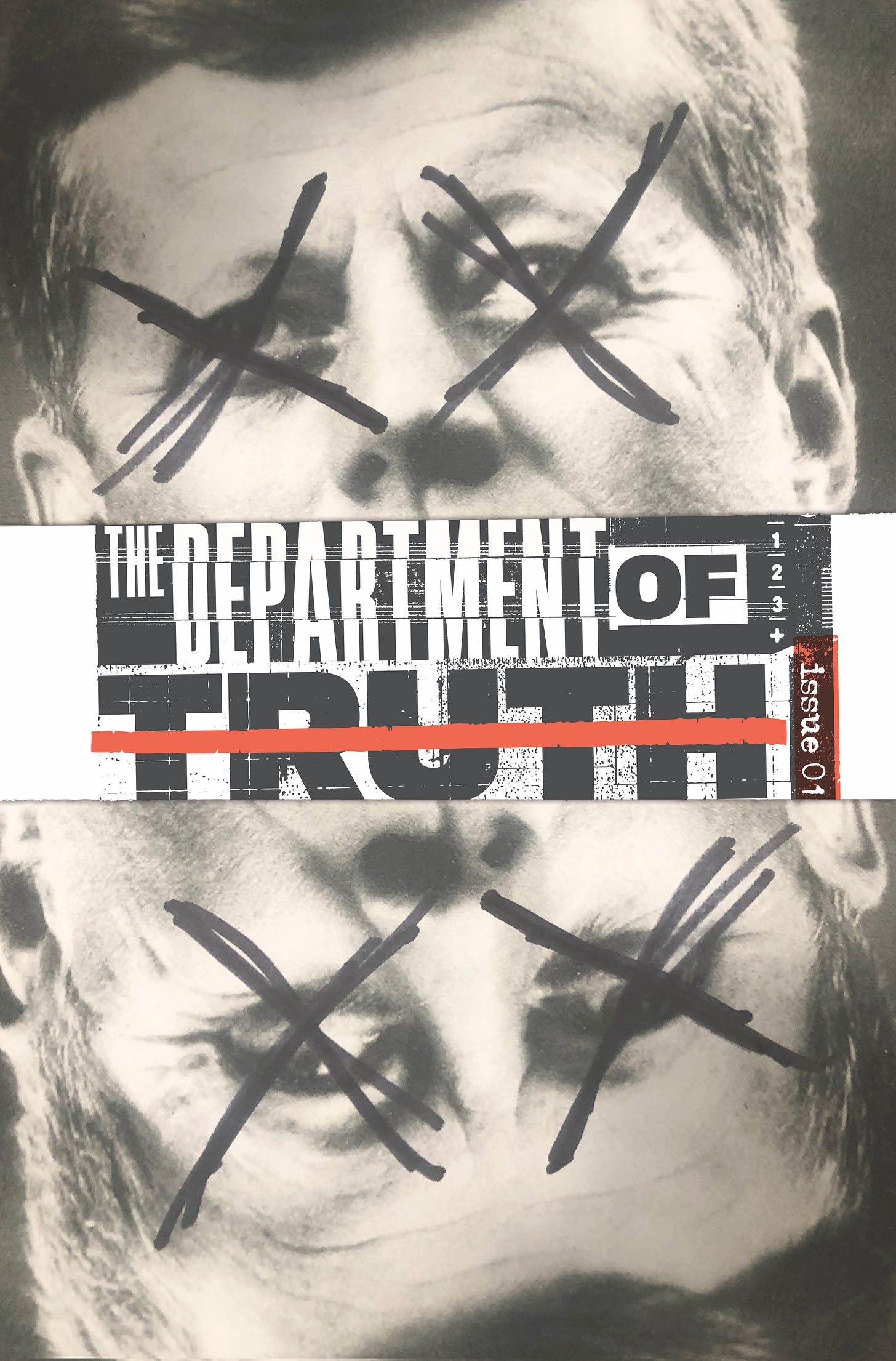 I call it the DEPARTMENT OF TRUTH #1 PROOF OF CONCEPT VARIANT.
Dylan Todd took my original janky cutouts and formatted it together into an actual cover on the book. You could probably call this my first foray as a cover artist!
You can only buy it through me. It is available for purchase right now on my Gumroad Store.
I'll be selling part of my print run on my website right now, and the rest you'll only be able to get from me at conventions next year (or if we don't look like we'll have that many conventions, I might create a few other opportunities to buy them online).
I have two other variants that I won't announce until I put them on sale closer to the release of the issue, but they have a simpler story… Honestly, I just wanted them to exist so I paid for them to exist. And I'll be doing the same, splitting the run between online sales, and convention sales in 2021.
I also wanted to let people know that I just put in another big order of Department of Truth enamel pins. I don't know if I'm going to get them in before the release of the first issue. Retailers can still get bulk discounts on orders of 5 pins or more. Just email my team at TinyOnionStudios@gmail.com and let us know what you're looking for. But there are still 28 pins available in the second batch! Buy them from my Gumroad store today, and you'll get the pin in hand before release day!
So… Stay tuned. I'll be announcing the sale of the other covers in my next newsletter.
RAZORBLADES: THE HORROR MAGAZINE
Okay, so… Just over a month ago, I announced that I was going to be starting a Horror Anthology magazine.
This was my Quarantine project. An experiment in self-publishing. An excuse to keep in touch with all my friends in the industry I wasn't going to get to see in the 2020 convention season. An outlet for curating the kind of short-form horror content I wanted to see in the world, spotlighting the creators who are doing the most impressive work in the horror space. The original idea was to create a solely digital publication, offered pay-what-you-want on my own website. We'd keep it running quarterly for a year and see how it did.
That was really the entire original plan. But then, as we got closer to the release date, I got a wild idea. I thought to help get some attention for our little pet project in self-publishing, I would pull together a limited print run to go on sale with the first issue. Give folks something they could grab in hand. If we sold through the 500 issues on sale in a week, hell, I might even consider doing a print run of Issue #2! I reached out to a specialty printer that focuses on small batch printings, to get an estimate. The price was high, but sensible considering the length of the book and the limited numbers we were printing.
BUT THEN… You guys wiped us out of the full 500 copy stock in less than an hour, and everything changed.
The messages started immediately from the people who missed the first batch, telling us that there was a demand for more. Retailers reached out privately en masse and reiterated the same. The uniform message was that there is a hungry horror audience that would be absolutely thrilled by our product, and they would love to carry it. And so, Steve Foxe and I made a decision that moving forward, Razorblades was no longer going to be a digital-only project. We were going to embrace print fully and whole-heartedly.
But that ALSO meant we needed to start building out an operation that would allow us to scale up our operation, while allowing ourselves to keep our independence. We had a very exciting offer from a favorite publisher of mine to assist, but honestly, part of the fun of this is doing it all ourselves. But we did get a few helpful voices in the mix that will help us distribute on a larger level, while still maintaining our independence.
There's a lot to come, but we wanted to get the following info across to everyone today:
1. As of late last week, I am now in possession of the full first print run of Razorblades: The Horror Magazine #1. There are SO MANY BOXES in my apartment right now, you would never believe it. Not only the books themselves, but the shipping supplies needed to send the books your way. We're just waiting on a few more key things to arrive and then they can go out the door. I think the first shipments will start to go out this upcoming weekend, and we'll try and keep them shipping steadily after that. You will get a prompt via Gumroad when your book is in the mail.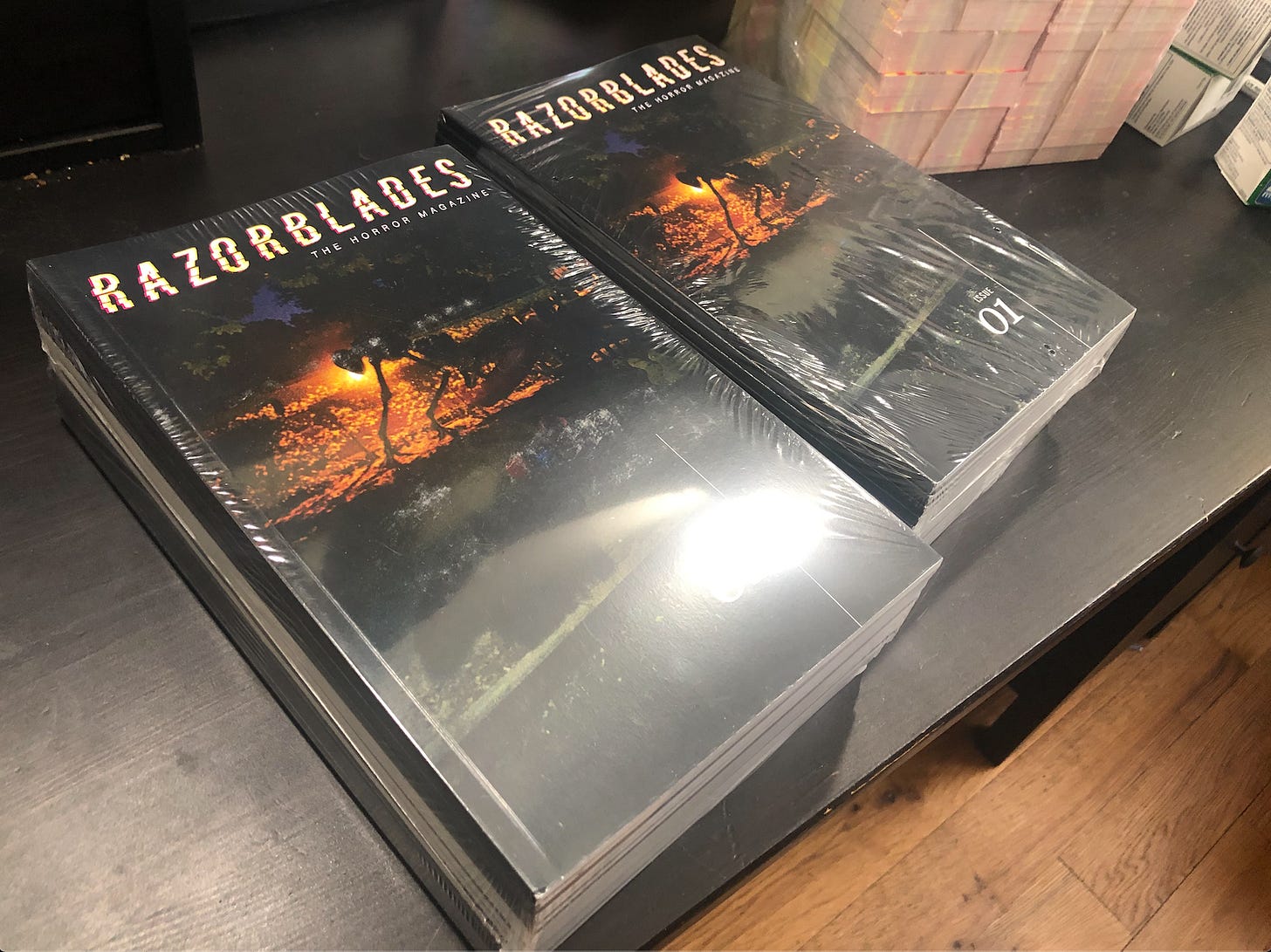 2. We recognize that as we scale up our operation, it's likely that the cost-per-book is going to get lower, but we're sensitive to those who dished out for a high cost first print run. To reward the first adopters, we are going to include a limited edition KILLBOY postcard sized print with art by Killboy's co-creator - Ricardo Lopez Ortiz. The print will be signed by me. This special edition print will ONLY go out with these first print editions.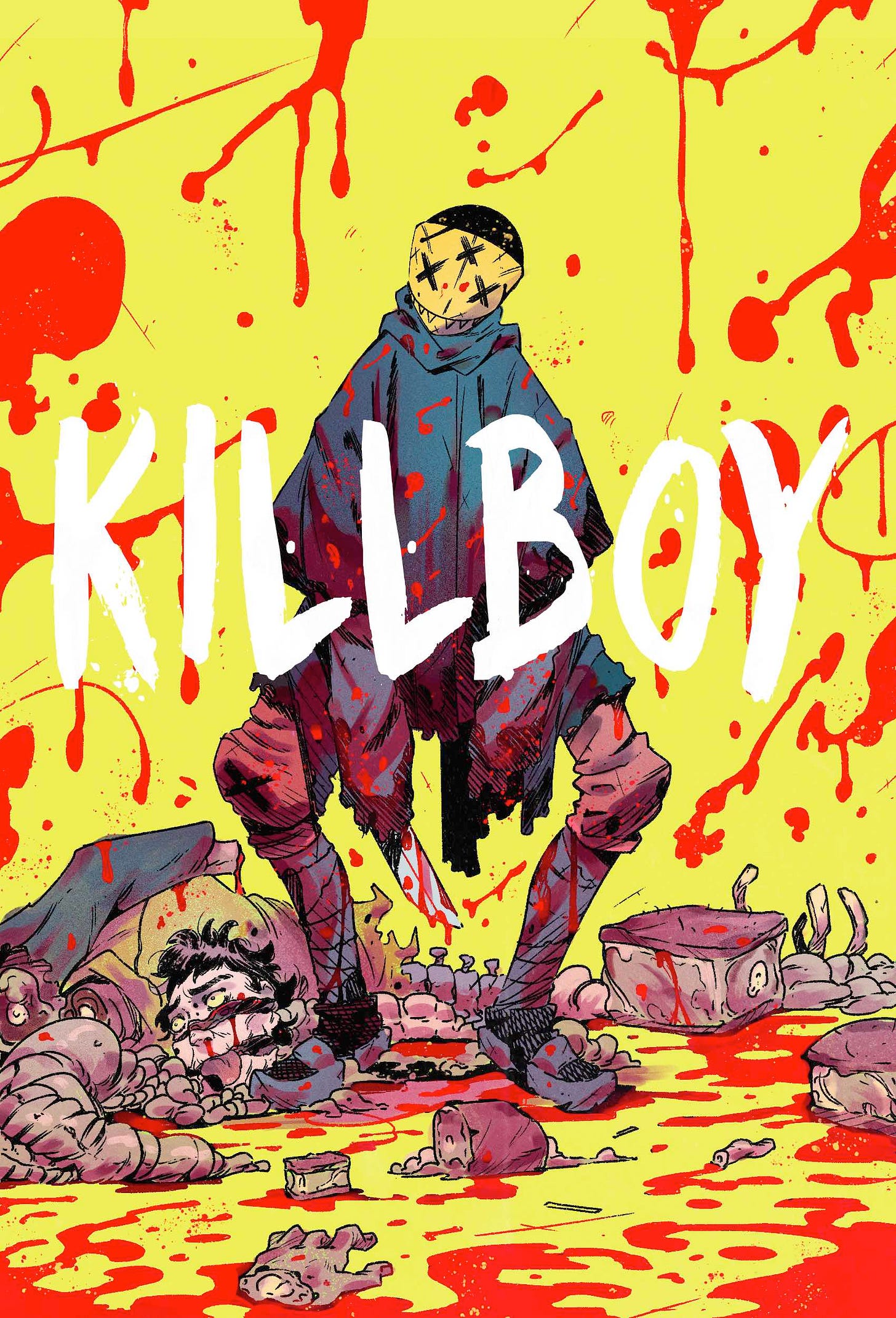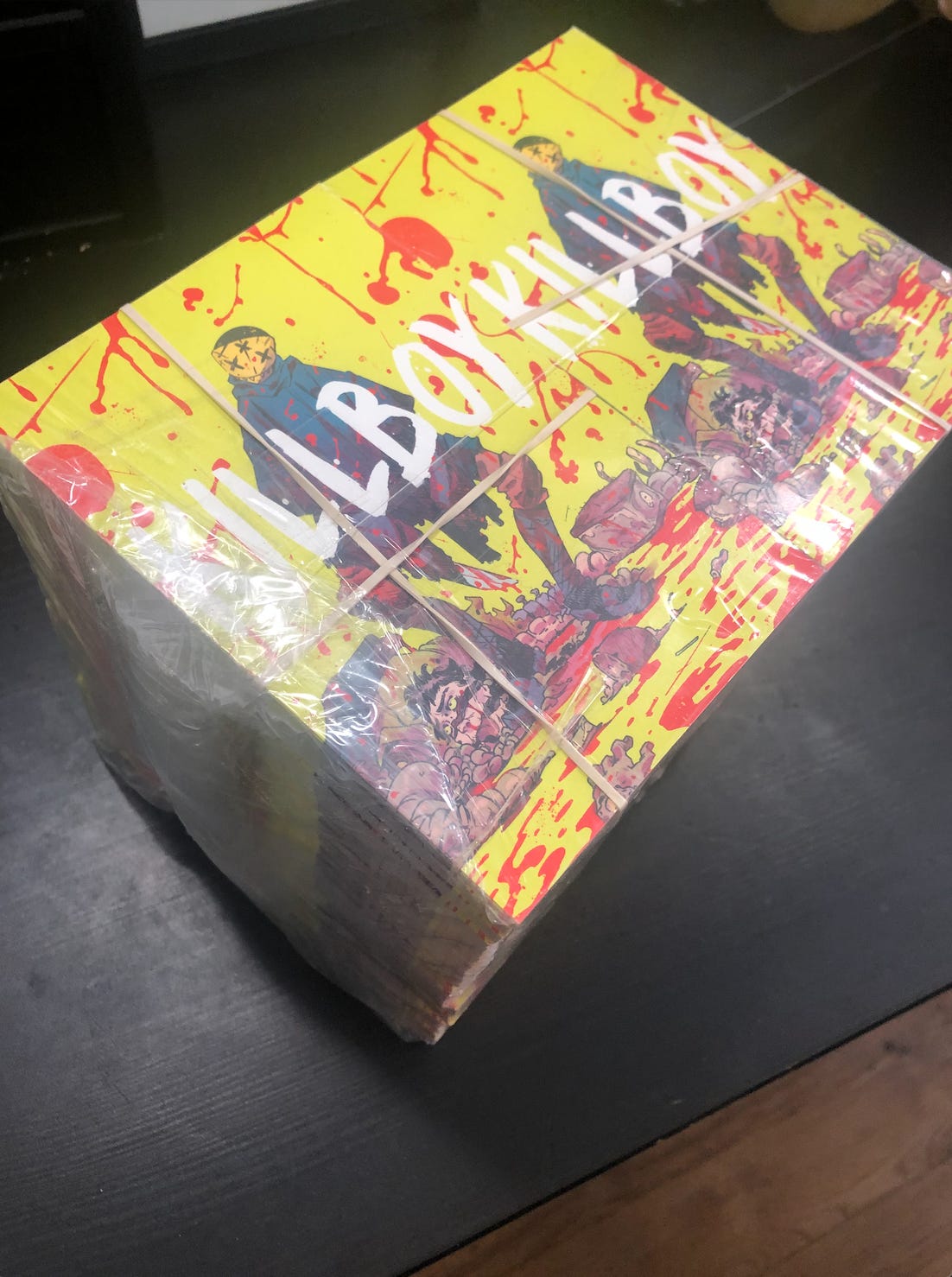 3. We'll never reprint the original Trevor Henderson cover. We have some plans for new print editions of Issue #1 for those who missed out on the original, but they will be unique, preserving the first printing's collectability. We'll be announcing those plans in October, as we gear up for the release of Razorblades: The Horror Magazine #2.
4. I've got a big plan for retailers that will allow for bulk orders of future issues at a discount rate. Retailers who might want a head start on the operations should reach out to my team at TinyOnionStudios@gmail.com, so you can be among the first to hear what we've got in store when we announce in October.
5. At least through the first year of the whole Razorblades operation, we're going to continue to offer the digital versions of the book as a pay-what-you-want through our website. As fun as the print option is, our goal here is to create something that enhances the horror community, and we want to make sure it gets into as many hands as possible.
There are whole paragraphs that I keep writing and deleting about the future of Razorblades. I desperately want to spoil some of the amazing creators we've lined up for the project. We have some of the finest comic book and horror writers and artists working up truly phenomenal pieces for future issues of Razorblades. So far, I've managed to line-up three different creators from my "they wouldn't say yes to this in a million years" list to do projects for the book… And just wait until you see who we've got an interview with in Issue #2. Hell… I just had my first few real conversations about how to bring Razorblades to a couple other mediums just the other day… And man, oh, man did that make my head spin.
On top of that… Right now, I'm working with a killer group of designers to build out a new, professional, easy-to-use website and webstore.
Thank you for bearing with us as we transition from the Lo-Fi version of this whole operation, to something a bit more robust. There is so much exciting Razorblades stuff to come. You're going to be hearing a LOT more in early-mid October.
Meanwhile, if you haven't read the first issue, it's still available, Pay-What-You-Want at ReadRazorblades.com.
And I'm going to wait to show you these amazing Killboy pins until I get them in hand, but it's sooooo hard not to spoil everything.
But, if you want a little sneak peek at some more Killboy art …
TINY ONION APPAREL
I've been threatening this one for a while, now. But I have officially set up a Threadless Store, where you can buy apparel and some limited merch featuring the logos of Department of Truth, Razorblades, and Tiny Onion Studios. This is an experiment, more than anything. Even if nobody else buys these dang things, I sure am going to. I have an order in already for a bunch of shirts, hoodies, and a few branded notebooks. If I'm not feeling self-conscious, maybe I'll show off some of the swag when I get it in.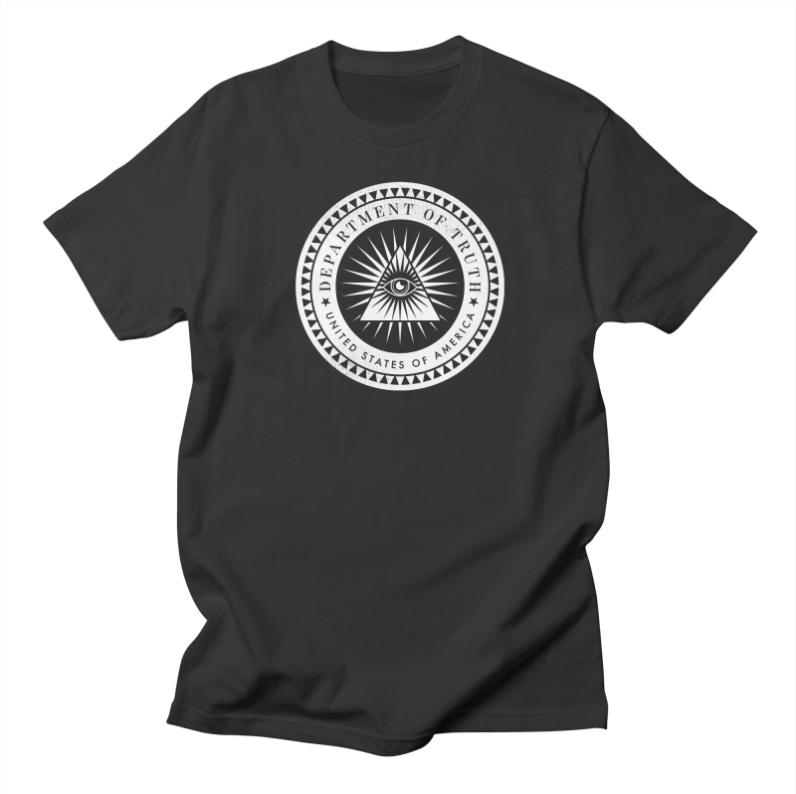 Along with the logo designs, I also have our first ever Killboy t-shirt, with an incredible Cornerbox design by Ricardo Lopez Ortiz.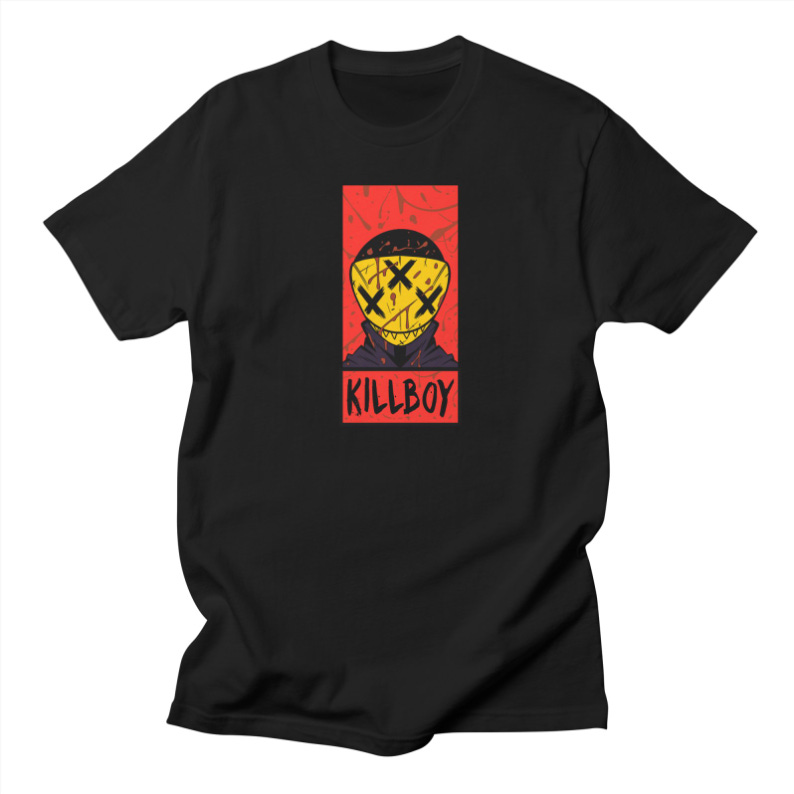 In case you can't tell, I am very, very excited about Killboy. This is the character that lets me do all the stuff the standards and practices teams don't let me get away with at DC. This is pure, comic book id ultraviolence. Johnny The Homicidal Maniac meets Spider-Man. And Ricardo has captured his energy so freaking perfectly. You'll meet him in action in Razorblades #2 in October.
But yeah! Buy some shirts! And hoodies! And tank tops! Go spread the gospel of the Tiny Onion!
ALL THINGS THAT GO BOOM! IN THE NIGHT
Sales on SOMETHING IS KILLING THE CHILDREN keep going up, issue-to-issue, and if that trend continues, Issue #11 sales might actually surpass the initial sales on our Issue #1. I'm also hearing that sales on those SIKTC Neck Gaiters are going really well, both on the website and in stores. And they look freaking amazing! Check me out.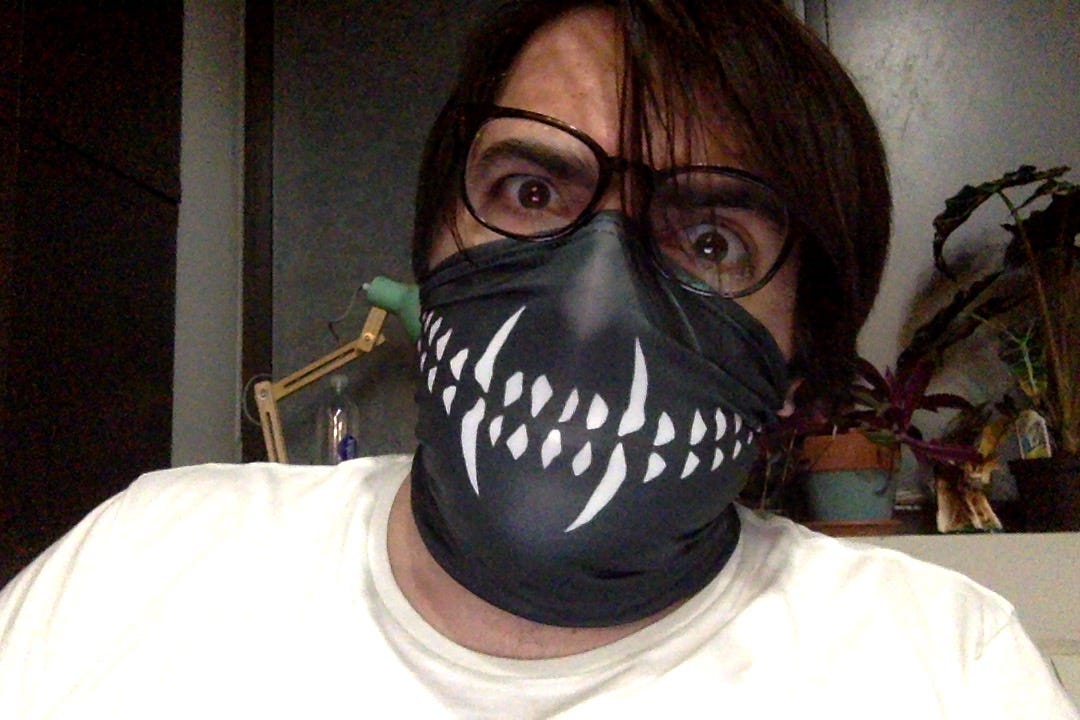 So, so spooky. There's a bunch of cool SOMETHING IS KILLING THE CHILDREN news on the horizon. We've got some fun stuff lined up for October, and I'm trying to make sure that there is EVEN MORE fun stuff lined up for October. We'll see how much I can get away with, but I just want to make sure there are lots of great ways to celebrate SIKTC right at the spookiest time of the year. Once again, I am completely amazed at the audience that has built for this book. Ever since the wide-release of Volume One, I feel like the book keeps finding a bigger and bigger audience. I've been laying out the plans for the series moving forward with my editor, and have a rough sketch of where we're going that makes me ridiculously excited. There's a character that we're going to introduce next year who has already wormed inside my head and is getting into all sorts of trouble in there.
Meanwhile, WYND #1 has gone back to a third printing, and Wynd #3 has sold out and gone back for a second… A lot of behind the scenes work is happening this month to hammer out the plan for Book Two of Wynd and beyond… And I might be having a few conversations about what Wynd might look like in other media, too. I have a lot of loud, aggressive comic book projects right now, but I do have to say that there's something absolutely incredible about seeing people fall in love with characters who have been living in my head for half my life.
One of these days I need to dig around in my Dad's storage locker uptown and try to find the notebook where I sketched out the full cast of Wynd, when I was about 17 years old. The characters have changed a lot in some ways, but not at all in other ways. If I remember correctly, I colored all of the sketches with colored pencils… If I can find it, and bear the shame, I will show them to you.
BATMANNERY
I remember, a few years back, right when I had first gotten wind of the creation of the Middle Grade and YA lines that DC Comics was developing… I approached the editor in charge of the program with an idea.
I wanted to do a book with the energy of a Shonen Manga, that told the story of Bruce Wayne travelling the world and training to be the world's greatest crime-fighter… I don't think I ever wrote up a pitch document, but I do remember laying out the core cast in a notebook. There was a cowardly thief style character, a young woman who may or may not have escaped from Themyscira, but the character that had really instigated the whole idea was Bruce's Rival. The key to that idea was to create a Zuko to Bruce's Aang. The Gary Oak to his Ash Ketchum. The Draco Malfoy to his Harry Potter.
The project never went anywhere, mostly because I never actually got around to writing a pitch (I've been working on a LOT of comic books, you guys!), but the idea of giving Bruce a rival in his childhood goes back to when I was writing the back-up stories to Zero Year, thinking a lot about that era in Bruce's life. And from time to time, I would think about where I might be able to introduce a character like that. There was a version I nearly folded into the Colony in my Detective Comics run, but I couldn't make the idea fit without confusing the larger idea I was exploring with Batwoman.
Cut to earlier this year… Originally, when I outlined 2020, I wasn't going to introduce Clownhunter until after the end of Joker War. But the response to Punchline was so strong that I realized that the best math for making people excited about a new character was to introduce them in the arc before the arc where they take center stage. So I moved the intro of Clownhunter up into Joker War, where he's currently winning over the hearts and minds of the readers of Batman. And then I realized that I needed to bring in another character into the last story of 2020… And my mind started going back to The Rival.

I'll be blunt. My initial ideas for that character were pretty basic. The rough concept I had played around with in the Shonen series pitch was that young Bruce was a bit of a scamp, more of a Robin type character, so his rival would be the more serious type. But that dynamic wouldn't work in the present. He needed to be something more. He needed to be a fascinating inverted mirror to Batman… And he needed some flair. And a name.

And then Jorge Jimenez took all of that and worked some magic, putting together what I think is one of the absolute coolest new Superhero designs I've seen in the last few years.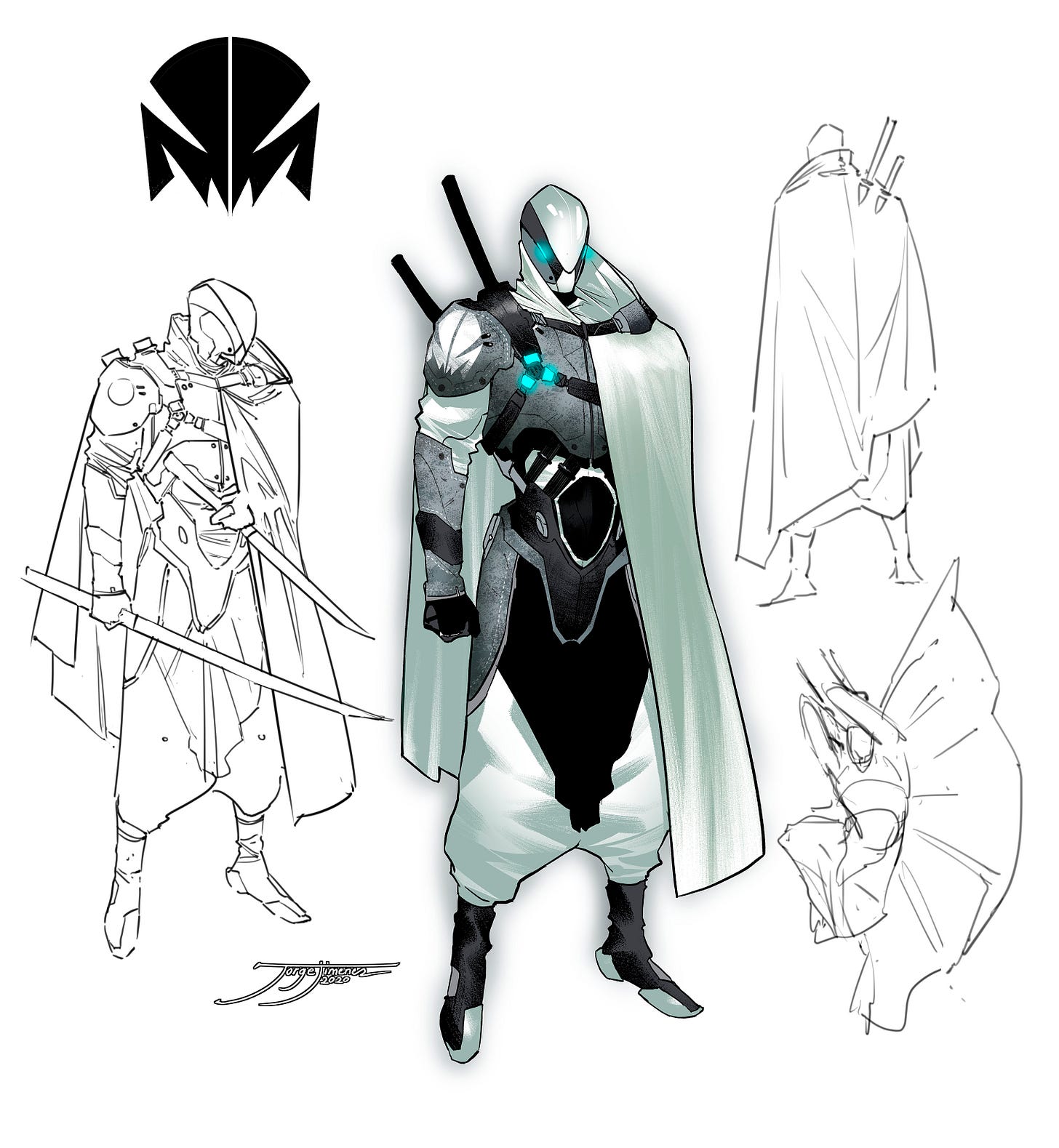 Ghost-Maker has a brief cameo appearance at the end of Batman #100, and then enters the story in earnest in Batman #102. I hope you all love him as much as I do… We might already have something we're building in secret with the character… Ben Abernathy and I have been having a tremendous amount of fun pairing these new characters with some very exciting artists. We have a Punchline one-shot coming, written by myself and Sam Johns, with art by the phenomenal Mirka Andolfo… We have a big Clownhunter story in Batman: Joker War Zone but the incomparable James Stokoe… And now we have another exciting new character in Ghost-Maker, and I have art in my inbox that's making me lose my mind. But I probably shouldn't bring that up just yet…

But honestly, the most exciting thing is that I've been talking for the last couple of months about how all of these new characters' stories continue into 2021. I want these characters to stick. I want you to love them as much as I do.
I just turned in a document that is literally 22 pages long outlining all of my lunatic ideas for 2021. Jorge sent me a video a few months ago to capture the tone he'd like to tap into for next year, and I've been watching it a few times every week ever since to burn it directly into my brain. I think together we're going to make some really really cool comic books next year. This era of Batman is just getting started. I keep wanting to hint at what comes next, but I know that I can't. Gotta save SOMETHING for some future newsletters!
HOUSEKEEPING
If you haven't yet, reach out to your Local Comic Shop today and ask them to reserve you a copy of Department of Truth #1. I really hope you enjoy it!
Next one of these I'll get back to a bit more waxing poetic about comics, and a bit less hand selling. I have all these Clive Barker comics I ordered off eBay to inject into my brain. Let's see what happens!
James Tynion IV
Brooklyn, NY
9.7.2021