I have got to say, I'm READY to stop hustling…
I had this half idea in my head that when the sales closed on Razorblades, that I was going to delete all of my social media and just kind of vanish for the rest of the year. Not take any interviews, or engage in any of the discourse of the day. Let myself exist in a world where my day-to-day isn't doing the hard sell. Where I can just write, and read, and socialize with my friends and finish all of the house projects that I've been meaning to do literally all year.
My project this weekend into next week is going to be to overhaul the bookshelves in my apartment. I've upgraded and consolidated a few corners of my collection, but a big part of that is going to be thinning things out. There are a lot of trades on my shelf that I've had for years and never revisited, and others that I have on comixology and don't really feel like I need on display. The big thing I want to do is change my shelving system from being alphabetical by publisher, to alphabetical by author. At least for creator owned work. I am ready for all of my Alan Moore comics to get to hang out with each other on the shelf…
That of course presents problems (Do all of my Hellboy/BPRD trades get shelved under Mignola or their respective writers? I think probably Mignola? Right?? And do I shelve Sleeper with the rest of the Brubaker/Phillips stuff or with the rest of Wildstorm Universe?). But those problems are part of the fun of all of this… I also have a whole treasure trove of comic book art I've gotten my hands on this year that I need to get framed. And I think I'm ready to cycle out some of the pieces I've had on the walls for ages.
I'll have to take it one thing at a time. There's still plenty of work on my plate, and a lot of secret things happening that you all won't find out about for a bit. But I'm not going to be launching ANYTHING ELSE new between now and the end of the year! And I'm staying pretty chill in the early months of 2021 as well. I have exciting new projects on the deck for next year that I am very eager to bang the drum for, but that will have to wait until 2021…
But I can't abandon my hard-selling ways JUST YET.
Let's get down to business.
RAZORBLADES: THE HORROR MAGAZINE
Okay… This is the home stretch.
You have until MIDNIGHT, TOMORROW NIGHT, EASTERN STANDARD TIME, to place your orders for physical copies of Razorblades: The Horror Magazine! Your options are…
RAZORBLADES #2 - LIMITED PRINT EDITION - $15
This is JUST the second issue, with the standard cover by Ian Bertram and Miquel Muerto! Nearly 80 pages of Horror Comics, Illustrations, Prose, and an interview between Zack Davisson and Gou Tanabe!
RAZORBLADES: THE BASIC SUBSCRIPTION PACKAGE - $60
Five Issues of Razorblades for the Price of Four! Get a special Subscriber Cover of every issue from #2-5, and a copy of the limited second printing cover for #1 by Trevor Henderson! Orders will ship quarterly, with the first shipment in November.
RAZORBLADES: THE PREMIUM SUBSCRIPTION PACKAGE - $80
Get everything in the Basic Subscription package, plus one limited edition enamel pin, one postcard sized art print per issue, and a collector box to keep it all in!
All sales will LOCK tomorrow at Midnight. We're going to put our final orders in to the printer first thing next week. There will not be another chance to buy physical copies of #1 & 2 from me until we put a collected edition together. The subscriber covers to issues #3-5 will NEVER be offered for sale again. Standard print editions of those issues will go on sale in January, April, and July… But this is your last chance to get them like this.
The response has been incredible over the last few weeks, and you have already helped fund most of the next year of issues. Thank you so much.
If you are a retailer, you ALSO have until Midnight tomorrow night to finalize your orders. You can hit me up at TinyOnionStudios@gmail.com and we can hash things out. As long as I have the request in by EOD tomorrow, I promise I can make it happen. I've gotten a chance to respond to all the retailers that reached out to me, so if you DID email me and haven't received a response, please ping me ASAP. I am unfortunately VERY susceptible to human error. We have had a TREMENDOUS response from the retail community, and I have been so fucking grateful. I recognize that this is a weirdo little book, and a bit of an outside the box sell for your shops. Thank you for standing by and supporting this personal project. I'm never going to forget the folks who went all in on our little horror book.
I have one more little Razorblade-filled treat for you, waiting on my Gumroad Site. Four new enamel pins, featuring Your Friendly Neighborhood Serial Killer, KILLBOY, designed by his co-creator, Ricardo Lopez Ortiz. Two done up in Black Metal, and two in Rainbow Metal. They look fucking amazing! Check them out!
They're all available right now on Gumroad. Retailers, if you're interested in ordering 5 or more Killboy pins for a discount rate of $5/pin, you know the drill! Just hit me up at TinyOnionStudios@gmail.com. I only have 100 of each design, so get them while they're fresh!
If you've ALREADY backed Razorblades: The Horror Magazine, but you're still looking to scratch the itch of cool anthologies, there are a few running on Kickstarter right now that you should give your attention and your moneys.

CORRIDOR - Another premium weird science fiction and horror magazine from some of the top creators in the comics biz, including a number of collaborators from Razorblades! I backed this baby the second I saw it pop up. I am so thrilled to see more people diving back into the Anthology format, and I hope we continue to see it happen.
F(R)ICTION is a really wonderful magazine. I have the last two issues sitting on my coffee table right now. It's predominantly prose, but features incredible illustration features along with a bunch of incredible stories. Their summer issue was themed on MONSTERS and I have been eating up every story I read in it. Their distribution has been hit hard with Covid, and are turning to the public to help keep them going another year. If you've been looking for some high quality genre fiction in a beautiful package, this one is for you!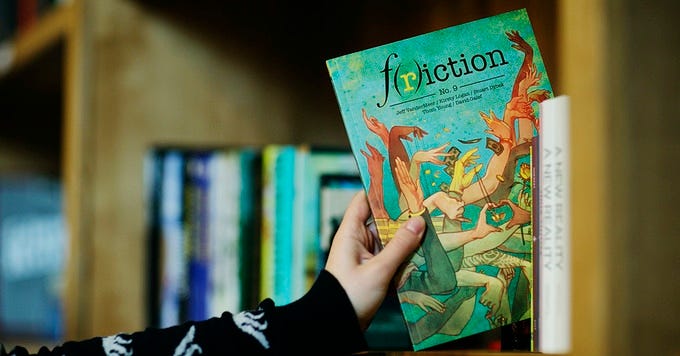 Support them both on Kickstarter! (After you've got your Razorblades orders in, of course).
THE DEPARTMENT OF TRUTH
Most of the developments around DOT right now are TOP SECRET, but very, very exciting. Martin and I continue to be absolutely blown away by the response, here. We're so grateful for the support you've shown the book, and we hope you stick with as as we head deeper and deeper in the murky corners of the world. Speaking of which… Monday is the Final Order Cut-Off for THE DEPARTMENT OF TRUTH #3, and we've got some really incredible covers for the issue…
COVER A – Martin Simmonds
COVER B – Andrea Sorrentino
COVER C – Adam Gorham (1:10 Incentive)
COVER D – Trevor Henderson (1:25 Incentive)
If you haven't done so already, please let your local comic shop know to add the book to your pull-list! We're just getting started. It's our hope that this is a series that's going to run for a long, long time…
And to celebrate the success of the book so far, I pulled together something a little fun… Issue #2 this week introduced one of the weirdo analysts working in the most secret basement of the Department of Truth. Hunky is the the Department's television analyst. He also has an amazing T-Shirt….
So, anticipating this newsletter, I reached out to our master designer, Dylan Todd, and asked if he'd put together something quick for me to sell to all of you…
Available now on my Threadless Store, along with shirts and merchandise with the logos of Razorblades, DOT, Killboy, Tiny Onion, and more! I think the Fart Goblin tee should be immediately added to all of your Holiday shopping lists, for the Fart Goblin in your life
WYND
Hmmm, what's this now?
HOUSEKEEPING
That's really it! I can't really say more than I've already said about Batman 2021 until we get to the March Solicits. And the only news on my end with Something is Killing the Children is also top secret. Stay tuned! We're building really cool stuff, a whole interconnected Gotham. I've been chatting to all of the different writers
Please buy Razorblades so I can keep making weird little horror comics. And please, if you're in the US, go vote next week!
Happy Halloween, everyone!
James Tynion IV
Brooklyn, NY
10.30.20