9: Wingboys, Magic, and Monster Hunters
One week from right now, I am going to be on a beach. My phone is going to be off, and I won't have opened my laptop since I landed on the island a day prior.
The next few days, consequently, are going to be a bit of a gauntlet.
I'm just back from two days in Burbank working on a very exciting secret DC project with some very exciting collaborators, and two more days in Philadelphia at the American Library Association event there, working with Boom! Studios to get folks excited about the upcoming collection of SOMETHING IS KILLING THE CHILDREN.
I was thinking about not writing my newsletter this week, but I really can't get away with that. We've just had a few big announcements, and I want to talk about them with you. There's also an important goodbye to write, and hints at what's to come.
But I wasn't joking about having a million billion things to write. So I'm going to keep this "brief". Which is mostly to say I'm not going to write a personal essay on top of everything else.
WYND
My first new creator-owned announcement of the year landed on Tuesday. This is the project I've been referring to as PROJECT WINGBOY here in the newsletter. It's called WYND. It's what I've been working on with Michael Dialynas (my co-creator of The Woods) in secret over the last year. It's a project I actually cooked up when I was in high school, and have been tinkering with on and off for literally half of my life.
It's a YA Fantasy series of Original Graphic Novels. We have a three book deal with Boom! Studios and the first will come out this November.
You can read more about it at the Hollywood Reporter. Here is some art. There is more at the link. It is all very very pretty, and colored by Michael himself. The book will be lettered by the amazing Aditya Bidikar, but first I need finish writing it.
I wrote the following last summer as the preamble to a pitch that wasn't really a pitch. It wasn't really a pitch because the series had already been approved, Boom! just wanted to have some kind of proof on paper that I had the story in my head and wasn't just playing a very clever shell game with them.
Because it wasn't designed to SELL the series, just explain WHAT it was, it ended up being much more of an emotional document and world-building guide. And I started it off with an appropriate bit of navelgazing… I'll be pulling from that document over the next ten months to show you how I'm bringing this book to life.
When I was in high school, I used to dream that I could fly.

That I would wake up one morning and find that I had shed my awkward teenage skin and grown incredible, fluffy white wings. That I would step outside my window and take to the skies, finally having become the kind of person I always knew I was, deep down. In class, I would sketch little images of a transformed version of myself, confident and strong with those perfect, angelic wings. One day, after drawing my way through a class I ought to have been paying more attention to, I wrote a word under the picture.

"Wynd."

That's where this story began. For the rest of my high school experience, I kept a three ring binder in my backpack. I would write story notes and character descriptions, and draw elaborate sketches in various notebooks, then transfer them to the binder between classes. Refining the story, and the world. I wanted to create a story that spoke to the kind of longing I felt as a teenager. What it was like to be a young queer kid, trying to understand what I was with my friends, forging in the fire of the drama of our lives.

It's the story that, more than any other, I started taking writing classes to learn how to write. I knew it was a big, ambitious thing, and that it couldn't be my first project. But after writing workshops pointed me towards short form story, my mind moved away from the project. It seemed to wrapped up in the emotions of that period of my life, and I was too precious to carve it up into what it would need to be for someone else to feel what I felt when I worked and lived in that world.

But still, from time to time, even on panels as I started my career, I would draw a winged boy on a sheet of paper, and label it "WYND". From time to time, I would start writing a pitch document, debating if there was time. And then, at the start of this year, as I entered conversations with Matt Gagnon about following up The Woods, I started thinking of that winged boy again.

Then I went to Greece, and through some long conversations, the work began in earnest. This story has changed a lot in the last 15 years. But it's still a part of me, and something I have been desperate to bring to life for a very long time.

Like I said, it was a bit much. More LiveJournal post than proper pitch document, but I was trying to get into the right mindset. Gotta get that adolescent angst on tap when you're writing YA.
JUSTICE LEAGUE DARK
I love this page, even if it got me into a little bit of trouble.
It got me in trouble because in an issue where I stuffed four pages of action into two pages, I gave a splash page to Wonder Woman sitting at a bar with a chimpanzee. I went with a passive image, not action. Setting and mood, rather than forward momentum.
But that was the point. It was more important to the spirit of the book than a splash page of action. The world of DC Magic is a weird, strange world, and It was crucial to me that we set the stage for it. That we linger in the quiet moments, before the epic, world threatening magic shenanigans took hold.

I own that page. I have it framed, and in a couple weeks it's going to be on prominent display in my office.
Tomorrow, my last issue of Justice League Dark arrives on the stands. That fact breaks my heart, but I've been dancing around the truth for a while now, and the truth is that #19 is my last issue.
Back when I accepted the gig of Batman, as many of you remember from the press-release, it was supposed to be switching to a monthly title. My plan then was to keep writing Justice League Dark until the end of the story I set out to tell. I thought I would be able to land two planes at once. But once the decision was made to keep Batman biweekly, and suddenly I needed to get a whole story machine up and running in a bigger, bolder way… I knew I needed to step away from this book, or risk it becoming less than it should be.
I had brought in the writer, Ram V. to co-write the Annual last year because I had been so impressed with his Vault series, These Savage Shores. And he did such an incredible job writing the story of the King of Petals that I knew I wanted him back on the book, if I had to step back from it. I think Ram's going to be one of the best writers of this next decade of comics, and so I left the job to him to figure out how to tie up all of my loose ends.
I have passed over all my spellbooks and grimoires, and the guide to magic in the DC Universe that I desperately hope they print in the back of a big hardcover collection of this run someday. Ram is his own kind of Wizard, but I've seen his plans, and he will be continuing the larger story of the Upside Down Man and the Otherkind, and will write the epic conclusion that I've been laying out the pieces for over the last 19 issues.
I've said this in loads of interviews, but DC Magic is my favorite corner of the DC Universe, next to Gotham City. It's built from a rawer kind of magic than its Marvel counterpart. It's built from myth and horror. It's been written by the finest writers and wizards ever to shape our medium. I set out to tie together all the corners of DC Magic I always knew belonged together, and I think I did a pretty good job.
There are for sure stories I didn't get to tell that I would love to get back to some day. I think there's a whole larger DC Camelot epic to be written with Etrigan and John Constantine at the center… But maybe that's another book entirely, to be written another time. It'll go hang out in the back of my head along with all the unwritten years of my Detective Comics run. Maybe the stories will meet in those strange back corners of my mind and breed into something new.
I also want to talk about Alvaro Martinez Bueno. He has been my brother in arms on this series from the very beginning. He was my ONLY choice for artist on the book. I think the way that I put it was if they didn't give me Alvaro, I wasn't interested in writing the book in the first place. Obviously I'm biased, but I think Alvaro is one of the secret weapons of the DC Comics bench. Few artists can handle a comic with a large cast of characters. Fewer can do it while giving each figure a vibrant personality, and make every setting feel real.
It's rare to find a perfect chemistry between artist and writer, and going back to our work on Detective Comics, I have always known that Alvaro won't just settle for what I put on the page, he'll take it and elevate it into something more. I'm thrilled we were able to do the majority of the issues of this series together. Alvaro working alongside the phenomenal inker Raul Fernandez, and the always stunning Brad Andersen helped make this book look better than anything on the stands every week it came out.
If you can't tell… I'm going to miss working with Alvaro. It feels like I would never have stepped off this book without knowing what I'd be working on with him next! HMMMMMMMMMMMMMMMMM!
…
Okay, so this last point is a little disappointing, but important. It also comes with some spoilers for the issue, but we pretty clearly set the stage for those spoilers in the LAST issue, so I hope you won't be TOO upset with me.
If you read JUSTICE LEAGUE DARK in print, some of the pages are in the wrong order this week. I've been told it's been corrected in the digital version, but basically there is a beautiful montage page in the issue that looks like THIS…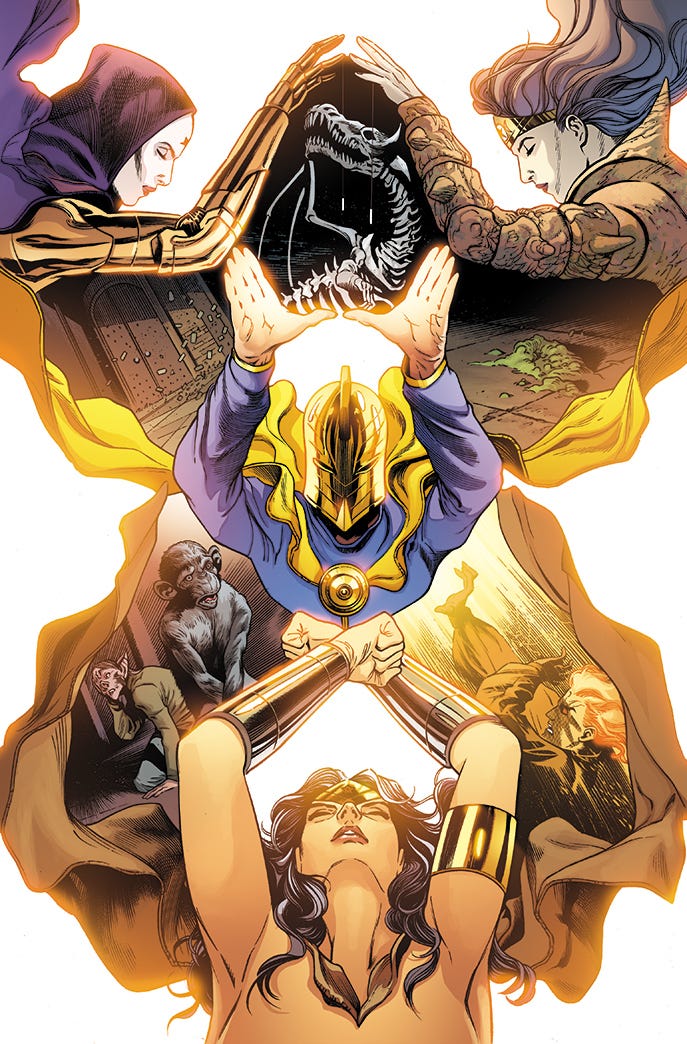 …and it should come BEFORE the two pages in the silvery Collective Unconscious version of the Moon, not after. I've been told that you can still make sense of things in the flow the other way, but I'd prefer you to read it in the correct order.
SOMETHING IS KILLING THE CHILDREN
Cripes. This was supposed to be me writing a SHORT newsletter, not a long one. I'm going to bullet point this, because mostly I just want an excuse to brag and show you some pretty pictures.
Issue One of SIKTC is going back to print (for a SIXTH PRINTING) with this amazing Adam Gorham cover.
Issue Two of SIKTC is going back to print (For a FOURTH Printing) with this amazing Jim Towe cover.
Issue Three of SIKTC is going back to print (For a SECOND printing) with this amazing Eryk Donovan Cover!
Issue Four of SIKTC is going back to print (For a SECOND printing) with this amazing Werther Dell'Edera cover
The continued support for this book is blowing me away, and I love all of you. There is a LOT more Erica Slaughter coming your way in 2020.
BATMANNERY
I screwed up last week and posted the second to final design for Punchline, rather than the FINAL FINAL design for Punchline, which Jorge Jimenez tweeted out into the world. I wish I could show you this variant cover with her on it for #94… Maybe once the May Solicits are out I can get actual permission.
You got enough behind the scenes stuff in this weeks newsletter, so more Bat-Stuff next time around.
IN STORES THIS WEEK
Justice League Dark #19
Written by Me
Pencils by Alvaro Martinez Bueno
Inks by Raul Fernandez
Colors by Brad Anderson
Letters by Rob Leigh
Cover A by Yanick Paquette
Cover B by Gerardo Zaffino
I talked this up a bunch before, but I am very proud of where we leave Circe at the end of this storyline, and I very much hope that folks pick it up from here.

Something Is Killing The Children #5
Written by Me
Art by Werther Dell'Edera
Colors by Miquel Muerto
Letters by Andworld Design
Cover A by Werther Dell'Edera
Cover B by David LaFuente

The End of the First Arc… The first glimpse of the House of Slaughter. Very excited to talk all of this up as we enter the next arc with #6.
HOUSEKEEPING

My inbox is filling up with art for PROJECT DALLAS, and my brain is filling up with ideas for PROJECT LAKEHOUSE. More to come on both as the year moves forward…
I have a truly stupid number of script pages to write this week, so I better get back to them before my editors come attack me with knives and dogs, as they do from time to time.
James Tynion IV
Brooklyn, NY
1.28.20