So, it was about a year ago that I realized that I needed to build a plan for 2020.
I had just launched SOMETHING IS KILLING THE CHILDREN to rave reviews and sold out of multiple printings of the book. WYND had been greenlit months prior, and we were targeting November for the release of the first of three OGNs, with a January announcement. I had been announced as the new writer of BATMAN, taking over with issue 86. And to top it all off, I had just convinced Eric Stephenson to greenlight DEPARTMENT OF TRUTH at Image Comics.
I knew there was a story to tell about momentum.
If I could go from selling out multiple printings of SIKTC to selling out multiple printings of Batman, that would give retailers confidence to invest big in my Image book. And if I could make that Image book hit, the first time I would fully own the rights to my series with my co-creators, I would finally be positioned exactly where I wanted to be in my career… And I would be positioned there right as a number of my properties had a real shot at being adapted into film and television.
The trouble was that I knew that nobody was going to tell that story about momentum.
Sure, I knew BOOM! Studios was going to be able to use SOMETHING IS KILLING THE CHILDREN to sell copies of WYND… But beyond that, my biggest touchstones over the course of the year were going to happen at three different comic book publishers, a part of three different big marketing pushes. Each path would be more or less insulated from the others. And I saw that if I wanted to have that story told I was going to need to tell it myself. And more than that, I needed to start creating a kind of label that would define myself and my properties above and beyond any specific publisher.
But I wasn't sure HOW to do that.
I knew that Twitter wasn't enough. Twitter works as a kind of blunt force instrument. It's not good at specifics, it's only really worthwhile to get a macro perspective. You can monitor enthusiasm pretty well, project to project. See what's connecting and what isn't in the most big-picture sense. But you can't really use it to deliver specific information. You could say the same thing on Twitter every single day, and there's a good chance that's not going to be seen by 95% of your followers. And it's not much better outside of Twitter. The Comics Internet is more of an insular constellation of news sites, bloggers and ex-bloggers that mostly talks to itself and rarely breaks through to the actual people with money in their pockets – Readers and Retailers. The major comics news sites, even the ones doing good work, suffer from the priorities of all internet news. They aren't trying to sell comic books to people who want comic books. They are trying to sell engagement to advertisers looking to sell products to the geekosphere. YouTube was growing its own insular universe, but once again, it felt disconnected from the people I needed to connect with. Just another closed circle.
I needed to create a way to speak directly to the people buying my books, readers and retailers. I needed to create a way to brand everything I was doing as a part of a singular system, not a bunch of disparate systems. And then I needed to hold everyone's attention. I decided that a newsletter was the best way to do the job.
I'd created the corporation, Tiny Onion Studios, a while before then, but it only really existed on paper. It was just my business entity… But I started wondering whether it could be something more. Could I build a brand that might be the umbrella for all of my work? Something with a logo I could slap on a comic book one day, or hell, even have pop up in the end credits of a TV show?
So I commissioned the incredible designer Dylan Todd, who had just knocked both of the Department of Truth logos out of the park, to take a crack at it… And he turned in this amazing logo…
2020 didn't go exactly like I planned. I have to imagine that's a pretty universal feeling. When I set all of this in motion, Punchline didn't exist, Wynd was going to be an Original Graphic Novel, and if you told me that I was going to try my hand at self-publishing a horror anthology magazine, I would have laughed in your face. My goal was to sell around 60K copies of Department of Truth, but that felt like a bit of a pipedream. Obviously, in the face of all the insanity this year has had to offer, I was able to make it probably the most successful year of my career to date. There's a lot of that I couldn't control… Pieces were set in motion in some cases years ago…
But what I could control, I did, and I did trying to carry the idea of Tiny Onion forward. I believed in each of my projects, and I tried to challenge myself with each of them to do something that I hadn't done before in the comics medium. In each case, I tried to lean into what saw was working and maximize those elements where I could. SIKTC taught me the comics market was hungry for new characters, and that became a key goal of mine, even in my DC Comics work. Believing in those projects with all my heart, my primary mission became "how do I sell the most copies of each of these books?" I've been saying yes to everything I have the bandwidth for that I believes will sell more books, and saying no to a lot of things that I used to prioritize because I saw they weren't helping me sell more books.
And that's why I'm trying to write this all out. This is kind of a call-to-action to my fellow creators to say that you are your own best advocate. You are your own best salesman, too.
I took control of my own narrative. I told a story of momentum and I've been riding the momentum of one big launch to another. And now, I'm ready to rest a bit. My next big comic book launches aren't coming until Spring or Summer of next year. I have been burning the candle at every conceivable end for pretty much the entire year. Now it's more about maintenance. There's a lot of story to tell in Department of Truth, and Something is Killing the Children, and Wynd, and Batman, and my main job is about to shift away from non-stop Barnum and Bailey salesmanship, and back to spending my time honing my craft and making sure I am delivering the best comic books I'm capable of writing.
The Tiny Onion Logo is now more than an idea on paper. And more than it was when I set out to create this newsletter… The logo is in every issue of The Department of Truth. It's on the back cover of every issue of Razorblades. I'll be launching a whole new website for the Tiny Onion brand in the next few weeks that will swallow up the current gumroad store and replace it with something more sophisticated. And I have big ambitions of where I want it to go next.
But there's ONE MORE hat trick before I can put down my wand and rest for the year.
RAZORBLADES: THE HORROR MAGAZINE
I am very excited to announce that Razorblades: The Horror Magazine #2 is going to be released at 12 Noon, Eastern on Friday, October 16th, alongside the next Tiny Onion newsletter.
Check out this amazing cover for the issue by the phenomenal Ian Bertram, with colors by SIKTC coloring master, Miquel Muerto. And check out a couple of quick glimpses of interior work by some of the astonishing creators we've lined up for this issue. Joshua Hixson. Marie Enger. David Romero.
I am ALSO thrilled to announce that we are going to be featuring an interview between Zack Davisson and Gou Tanabe, the phenomenal artist behind the Eisner-Nominated manga adaptation of AT THE MOUNTAINS OF MADNESS. There are plenty more big surprises to come inside the pages of Razorblades. We have stacked the decks for the Halloween season.
The issue is going to be available digitally, pay-what-you-want, but once again we're going to be offering hard copies of the issue. This time, we are going to be changing our approach. Which is a fancy way of saying that this time we actually know what we're doing. Obviously the demand wildly outstripped the supply last time around, with us selling out of 500 copies in about 45 minutes. We don't want people who want copies of the books to miss out this time around, so we have figured out a new system that we're very excited to unveil on the 16th. We are also very excited to announce that we've lowered the base price of a single issue of Razorblades from $20 to $15 per issue, and that's still for 75-80 pages of horror content every quarter!
There's another aspect to all of this that is going to be top secret until the day of the announcement. An idea that Sam Johns, one of the key members of the Razorblades Brain-Trust, cooked up that I think will be a game-changer for the entire Razorblades project. More on that on the 16th.
I shipped out the last copies of the first printing of Razorblades #1 last weekend. I know a bunch of you already have the issue in hand, and I appreciate the patience of the last holdouts. I have learned a tremendous amount about shipping and distribution of comics, more than I ever thought I would. The biggest thing I learned is that it takes fucking forever to ship 500 comic books, when you're mostly doing it by yourself in your tiny Brooklyn Apartment. Which goes to say that I never, ever want to do that again. I love you all, but I have roughly a thousand comic books I'm writing every single month, and I can't afford to running a whole shipping operation out of my living room. Moving forward, I'm going to stick to Enamel Pins and bring in a new partner to help us move books.
I am excited to announce that Tiny Onion Studios is going to be partnering with Jon Jesperson of JJ's Comic Art to handle distribution of Razorblades moving forward. Which means I do not have to ship out another 500 books from my tiny Brooklyn apartment. Jon will be helping to ensure that each and every copy of the book finds its way safely to you without filling my apartment with stacks of boxes taller than I am. It also means that we can up the scale of this project to make sure that everyone who WANTS a book can get one. We're still keeping this a fully independent project, outside of the normal distribution systems, but we want to get as many comics as we can out into the wild.

But, simultaneously, we can't resist that rush to the front of the store… So, I can also promise you that there is going to be a hyper limited offering put out into the world at the moment of release. So set your alarms for Noon EST, on Friday October 16th, so you don't miss out on that. But if you're not a collector, and you just want a book in hand to read, we promise we've got you covered, too.
"But wait!" cries the loyal newsletter reader, "What about the second printing of Razorblades #1?" I promise you that there are going to be a few different ways you can get your hands on a copy of Razorblades #1. We are going to keep our word and never reprint the original Trevor Henderson cover… So we reached out to Trevor to whip up a brand new cover for Issue #1. And here it is!
But that's not all! There is ANOTHER version of #1 in the works… The first retailer variant commissioned exclusively for COMIC CONLINE 2020! I'll lay out how you can get a copy of the ComicConline variant when I drop the next newsletter… BUT there's one more point that I want to raise before I move on to the next subject.
I am going to be sending out an email directly to comic book retailers about how to order bulk copies of Razorblades, in advance of the 16th. If you are a retailer, and you want to make sure you're on that list, please shoot me an email at TinyOnionStudios@gmail.com saying that you're interested in ordering copies of Razorblades for your store at a special retailer discount. We will also be offering the chance for comic shops with big horror fans to order their own special Retailer Variants, at an even greater discount.
So yeah. Set your alarms for October 16th.
THE DEPARTMENT OF TRUTH
This last week has been an absolute whirlwind. Obviously, it's been one of the most legitimately insane weeks in politics in my lifetime, but it also saw the release of THE DEPARTMENT OF TRUTH #1. Martin and I are still reeling from the incredible response… I don't think either of us ever recovered from the news that we broke 100k in sales for the first issue. Seeing the response from the creator community was one thing, but getting tweets in from actual readers picking up the book all week has been truly incredible.
And THEN there's all of the response we've been getting from Hollywood, that I can't even really discuss yet, except to say that I've spent about half of the last two weeks on the phone, and the phonecalls have been going exceptionally well…
I also want to offer an extra congratulations to my co-creator and artist, Martin Simmonds, who not only brought a new comic book baby into the world this week, but also welcomed a newborn son! It's been an auspicious week for the project.
Now, I gave you all the hard sell on this book for months, so I hope you've already let your local comic book shop to add it to your pull list in perpetuity… But in case you haven't Issue #2 has its FOC today, and on top of the basic Martin cover, and the Christian Ward variant, it has its own tiers of incentive Variants that were just revealed last week. A 1:10 cover by Francesco Francavilla, a 1:25 cover by David Romero, and a 1:50 cover by Martin Simmonds.
This issue features the first appearance of one of the main villains of the series… THE STAR-FACED MAN, and turns its focus to the Satanic Panic of the 1980s, which strikes close to home for our lead, Cole Turner. We've been working with lots of astonishing horror illustrators on Razorblades, so I'm thrilled to say that we're going to dedicating an incentive cover per issue of the first arc to THE STAR-FACED MAN, each drawn by an incredible horror illustrator. Which is how we got what has to be the most legitimately terrifying cover of the year by David Romero.
Thank you for all of your incredible support on the series, so far… And as a treat, I am going to throw another couple of comic books up on my Gumroad for sale.
I had special foil variants made up of the main Cover A by Martin Simmonds and Cover B by Jenny Frisson. I am holding on the majority of the batch I had printed to sell at comic conventions when the world opens up again, along with the Proof-Of-Concept cover I revealed in the last newsletter. But I am putting up 75 copies of each. This will be your ONLY chance to get your hands on a copy in 2020. I'm going to be shipping them out this month, and then I am retiring from personally shipping of anything bigger than an enamel pin… At least until I have another crazy idea.

Go buy them now!
Also: Speaking of pins… I just got 600 more Department of Truth enamel pins, which are once again on sale on the Gumroad site. If you're a retailer, and want to put in a bulk order, please email my team at TinyOnionStudios@gmail.com.
SOMETHING IS KILLING THE CHILDREN
It's also been one hell of a week for SOMETHING IS KILLING THE CHILDREN.
Issue #11 of the series officially outsold Issue #1, including all of the reprints, breaking 60K in sales. The book has been racing up the charts every month since the mass release of the first trade paperback. I also just got my hands on the gorgeous French edition of Volume 1. Issue #11 starts the third arc of the book, which will resolve the central narrative in Archer's Peak, and set the stage for the series to grow in 2021.
We have big, big plans for Erica Slaughter. Most of them I can't talk about yet, but I've started laying out story that will take me into 2022 and beyond. I love this world I've been able to create with Werther, and I am ludicrously excited to explore more of it, and reveal more about Erica's past, and more about the House of Slaughter, and the Order of St. George.

And then there's all the stuff I'm not even allowed to HINT about tied to the whole SIKTC property.

By the way… I've got the merch machine up and roaring for DOT and Razorblades, but I really have to try and get more SIKTC merch into the world… I've been loving seeing the pictures come in with folks with the SIKTC neck gaiter, but I would give an arm and a leg for a killer Erica Slaughter statue or Action Figure… Or even a few Enamel Pins and T-Shirts.

HMMMMMMMMMMM… I should have some conversations.
WYND
One of my favorite things about the year is seeing the steady, growing audience for Wynd. It is, by design, a slower burn project, told with a more of a novel approach than something built to be issue-to-issue. It's also probably the most personal title of anything I'm working on. I can't overstate the joy of bringing a project that has been in my head since childhood to life… And issue to issue, it keeps selling out. The book is finding a dedicated readership, who seem to be just as much in love with these characters as I am. I have a strong feeling that this is going to thrive in the book market, where it was designed to live.
Issue #5 of Wynd brings Book One of the series to a close. Originally there was some talk of whether Michael and I could keep it going as a monthly title, but neither of us wanted to give up the pacing of oversized issues (not to mention that, despite what my workload looks like, I do actually have limits of how much I can write at a given time)… So we want you all to think of this as an annual event. Book Two of Wynd will launch in single issues in Q2/Q3 2021. Michael has designed a whole new region of the Esseriel map for our sweet babies to explore (and get in horrible, horrible danger in). It is strange to be reaching parts of this story that have been in my mind since I was 16 years old, but never really dreamed I would be putting into the world. There are a few new characters coming in in Book Two who I think you're all going to love.
Wynd is a special book to me for a lot of reasons. I've been working with Michael Dialynas for my entire career, and he is family at this point, and I think we work exceptionally well together, having already tackled one multi-volume epic together. It's also the book furthest afield from everything else I'm writing, which is obviously drenched in horror. There's some horror in Wynd, but this series is always a breath of fresh air, when I come back to it, and live in it. It's me at my most earnest. Writing this book and getting to stretch these muscles makes all of my other projects stronger.
So, thank you so much for your support. We have big plans for Wynd, and big hopes that it can also find a second life in another medium… But for now, I gotta finish writing this newsletter and get back to scripting or Michael is going to be fly out from Greece to beat me up. Like all good family does.
BATMAN
I'm just going to confirm something that is basically common knowledge at this point.
There's another universe where Batman #100 was going to be my last issue on Batman. Ask me in another 5-10 years and I'll tell you what my original plans were, and the key moments through the year when I basically needed to throw out my roadmap because very major top-down story priorities shifted.
Weirdly, the shifting priorities helped me find the spirit of the book. There were entire issues I was writing, out of order because of the necessities of double-ship, not knowing the ending of the story I was telling. I had to throw out my bag of tricks, and focus on making every single individual issue an absolute BLAST to read. Focus on delivering a series of big cool moments, and exciting character combos, to make sure that there was something in each issue that made that issue worth reading. I knew there were big elements that I couldn't control, so I latched onto what I COULD control.
The upside of that meant that when something worked, I could pivot into it faster than I've ever been able to before. PUNCHLINE's success showed me the hunger for key new characters in the Gotham mythos, and the fact that Joker War's ending was up in the air meant that I could rework some of the key elements to fast-track the introduction of CLOWNHUNTER. And when the book became a sales Juggernaut and I was given the official news that I would be staying on the title indefinitely, I was able to reshape Joker War into the engine through which I could create a new, exciting status quo for Batman for 2021 and beyond… You can see that in what we set up last week in Joker War Zone, and what we set up this week in Batman 100. There is a whole big city in play, and we have longform plans that we are going to make the most out of… One key element in that is that I can say that Barbara Gordon is going to be an absolutely central character for the rest of this year, and next year. If you've been missing Oracle in the Bat-verse like I have, I think you're going to be very excited where things go from here… And then there's GHOST-MAKER, who debuts in a one-page coda this week. Everything we're doing here, especially now to the end of the year, is in service of setting up 2021 to be your new favorite era of Gotham City.
I'm INSANELY excited about next year.
This time, I'm working off a 22 page story bible that got approved by the big bosses last month. That bible took everything I learned flying by the seat of my pants in 2020 and apply it deliberately to a HUGE story that will take us to every weird corner of Gotham City in 2021. Jorge Jimenez has taken everything he's learned on Joker War and taken it to the next level in this work. I have a tab open on my computer with a video he sent me back in June to help define the mood he wants to capture in our story next year.
The plan has a whole host of new characters, and there are two of them in particular I think the fandom are going to lose their minds over. Jorge's initial designs has me in love with them already…
That plan involves key stories for Punchline, Clownhunter, and Ghost-Maker. You'll see the seeds planted for all of that in this week's Batman #100. The Punchline coda of 100 sets up one of the key elements I've just been dying to get to with the character of Punchline. She is about to go on trial, and that trial is going to let her manipulate the whole city into loving her, while she builds a dangerous plan that will run through the back-burner of 2021. The Coda leads us directly into the Punchline one-shot co-written by Sam Johns, and drawn by the incredible Mirka Andolfo. And that one-shot leads us directly into… Something I can't talk about just yet.
BATMAN #100 is in stores this week. It features truly STELLAR artwork by Jorge Jimenez in the oversized feature, Carlo Pagulayan, and Guillem March in the codas. Look at Jorge showing off all the crazy covers!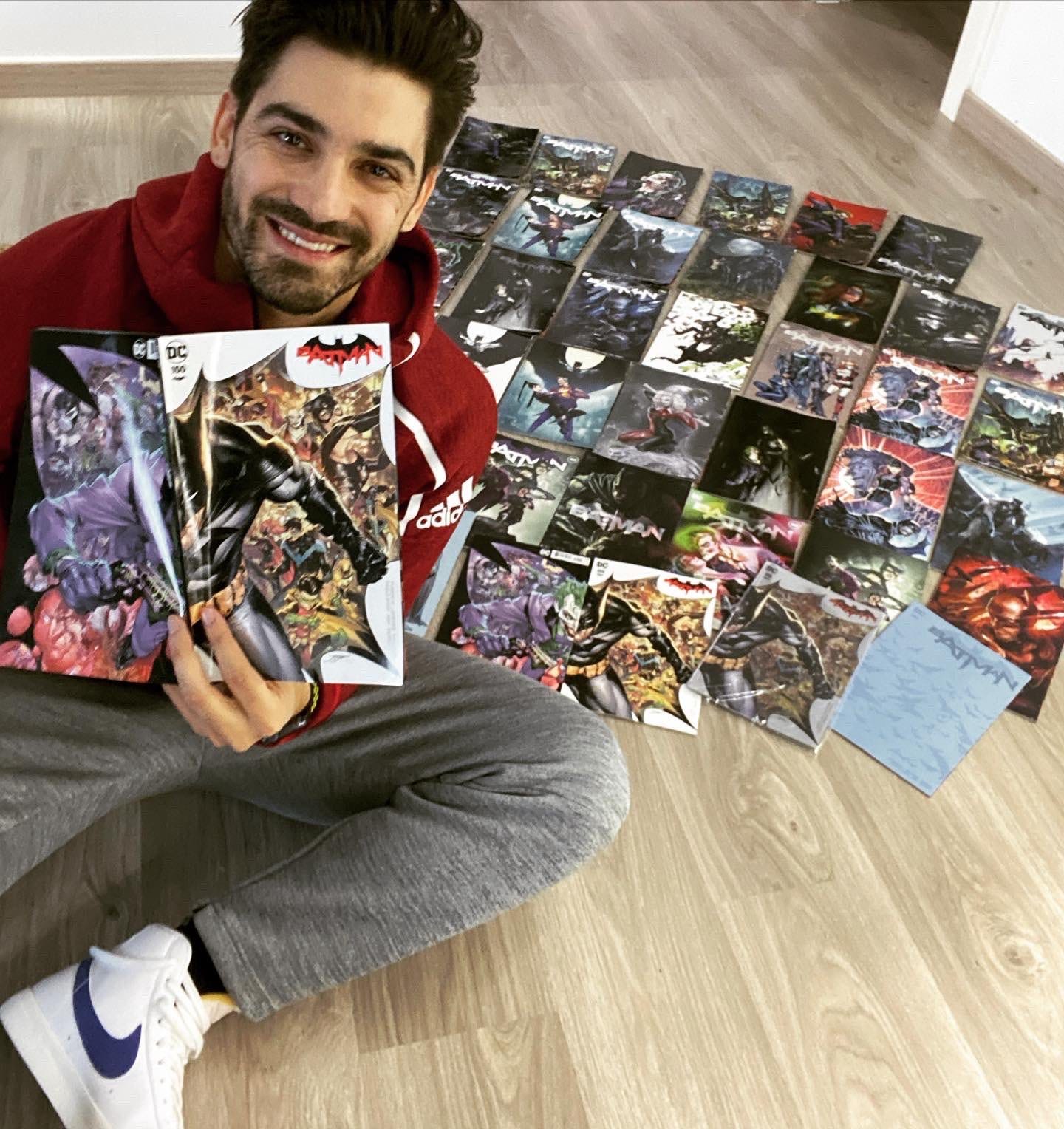 It is not the ending, but the beginning.
I guess all I'll say is that I desperately, desperately want a statue of Jorge's 2021 design for Scarecrow. You'll be seeing a lot of that spooky dude next year.

Just you wait!
HOUSEKEEPING
Okay. I think that's enough newsletter. I really need to figure out how to start doing shorter ones that don't take me hours to write, but also I do appreciate being able to gather all of my thoughts like this.
Also: Have you checked out the Tiny Onion Threadless shop yet? I'm rocking one of my own t-shirts right now! Because I am very cool and definitely wear my own band t-shirts.
Anyways. Be well. Take care of yourselves out there.
James Tynion IV
Brooklyn, NY
10.5.20